Which Solidworks version is the best
Which version of Solidworks is better to install?
If you also want to install SolidWorks software on your Laptop or PC system, you are probably wondering which version of SolidWorks is better to install? This question is related to the specifications of your computer. For example, if the hardware to install Solidworks is relatively old, it is better not to use the latest versions available in the market.
What windows are required to install SolidWorks?
In addition to the hardware, the type of Windows and version of your operating system can also influence the choice of SolidWorks version. Remember that to install SolidWorks 2021 or 2022, you must use the 64-bit version of the Windows 10 operating system. It is not possible to install SolidWorks 2021 on Windows 8, Windows 8.1, and Windows 7.
Considering that the new versions of SolidWorks will no longer be installed on Windows 8 and Windows 7 or XP from 2021, I suggest that you upgrade your operating system to Windows 10 and X64, and then software. Install the software.
Installing and running SolidWorks on Windows 11
According to the SolidWorks website installation requirements section, only service pack2 of SolidWorks 2022 can be installed on Windows 11. For this reason, we suggest that before installing Windows 11, be sure to run software such as SolidWorks. So you should not install Solidworks 2021 or 2022 on windows 11.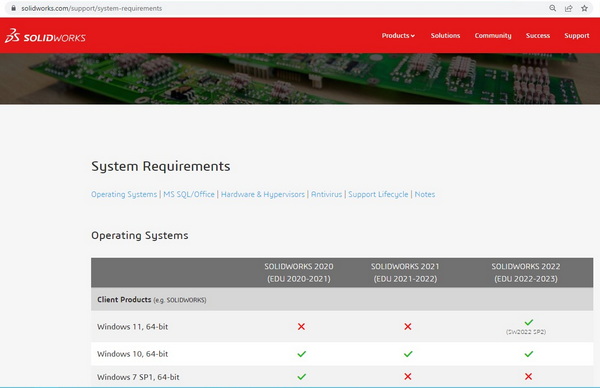 Which version of SolidWorks should we use?
If you have powerful and up-to-date hardware (CPU, RAM, and graphics card) and you are learning SolidWorks, I think you should start with the latest service pack from last year's version. For example, now in 2022, my suggestion is that Solidworks 2021, Service pack 2, and SP3 are good options.
This proposal has a reason. Because new service packs of each version usually fix bugs and problems, and when working with SolidWorks, the system hangs less or leaves the program.
Of course, if you want to learn SolidWorks and because of work problems, you can not buy a professional system right now, Solidworks 2018 and 2016 are good options and could run on medium laptops.
Related links
Free download Solidworks, Catia and Cad 3D model
Free download Solidworks training and tutorial PDF